Water by The Numbers Campaign
Albuquerque Bernalillo County Water Utility Authority
Challenge: In collaboration with the Albuquerque Bernalillo County Water Utility Authority, CWA Strategic Communications worked to develop a user-friendly water conservation campaign to 1) give customers watering guidelines; 2) allow customers to choose their own watering days while following guidelines; and 3) avoid mandatory watering restrictions.

Approach: CWA Strategic Communications developed a "Water by the Numbers" concept/ brand that incorporated the Water Authority's graphic standards. The campaign around the concept included a 30-second animated TV ad, repackaging of the TV audio as a radio spot, creation of digital billboards, print advertisements and bill inserts. CWA also developed an intensive public relations campaign that was disseminated and heavily promoted with media in Albuquerque and Bernalillo County.
Results: The campaign is now a permanent Water Authority Program.
The campaign was successful enough in its first year that it has been continued each year since.
The Water Authority met its water usage goal every year from 2008 through 2010 and 2011 through 2014.
In 2012, the "Water by the Numbers" campaign was credited with playing a large role in helping reduce the Albuquerque area's gppd (gallons per person per day) from 159 gallons to 150 gallons – one of the largest drops in a single year. It also meant that the community met a very important state-mandated goal for lowering water usage by 2015 three years early!
Services: Creative Services, Advertising, Media Placement, Media Relations, Public Relations, Collateral Production
Project Gallery: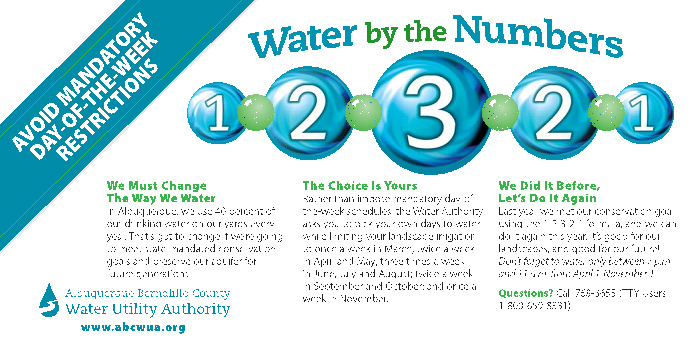 TV Spots: